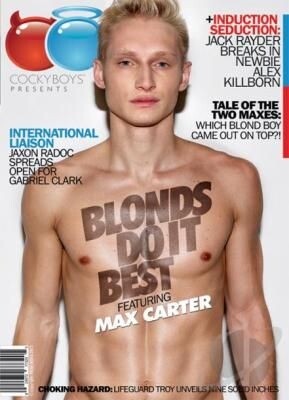 So they're not all natural blonds, but who cares?! CockyBoys collects seven scenes of blond lust, from dirty to platinum, short to shaggy. The sultry Gabriel Clark takes charge of dancer Jett Black in the opener, wrapping his arms around the twink in the interview. The highlight shows off Black's flexibility, the bottom stretching his legs across the chair arms as he rides Clark's cock. Max Carter gets two scenes: a romantic flip fuck with fellow blond Max Ryder (watch Carter's hard cock bounce from side to side, slamming his own legs as he sits on Ryder); and another sultry scene with handsome Levi Karter (also a flip fuck) — who puts his hand atop Carter's as he gets sucked in a nice shot.
Frankie V. breaks in newbie Raphael Marino, a dark-haired bottom who stays impressively stiff while getting fucked in a variety of positions (it's a really nice boner); blond newbie Alex Killborn plows hung bottom Jack Rayder; and Clark returns to fuck Jaxon Radoc, reaching around to stroke the stiff Aussie as plows him (another bottom with a great boner). And just listen to Troy brag about his cock in a hot solo. He loves "to see people's expressions and faces when they see this beast I have down here. It turns me on…makes me feel more dominant over people." Fuck yeah, buddy!
Synopsis:
Bombshell Max Carter leads a cast of some of the hottest, most beautiful blond boys from the CockyBoys stable in this DVD. From the introduction of platinum haired Alex Killborn, the epic pounding of Jett Black By superstar Gabriel Clark to the intense fucking of Max Carter and Max Ryder. This Volume contains it all, one things for sure blonds really do have more fun!