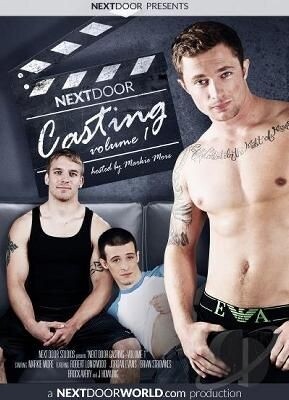 With those gorgeous puppy dog eyes, an engaging personality and a massive chest that you want to bury your face in, Markie More is the perfect choice as host in this casting couch series. He appears in all five scenes, and you won't tire of him for a second — he tailors his approach (in both word and actions) to each guy for maximum effect. You have to hand it to Next Door Studios — they really know how to cast exactly the type of guy that perfectly fits their brand. That is no more apparent than in the opener, where More and Robert Longwood admire each other's bods as their bromance chat quickly escalates ("Your whole body's hard, dude"), More taking charge as he leads the way ("How's it feel in your hand?") before they flip fuck.
More gets more dominant with Jordan Evans, a great face fuck the highlight (we get a hot "bird's eye" view, like we're getting sucked); while our host goes more sub with trim Brian Strowkes, whose massive cock makes the muscle man his bitch (it's ridiculously hot watching him suck it). More admires Brock Avery's cum gutters ("I like your 'V'!") before they flip fuck, while dark and handsome J Howling gets his wish in "the dominating of your little sexy ass," the bromance vibe returning in full force.
Synopsis:
Do these guys have what it takes to fuck like a Buddy? Join gorgeous host Markie More as he breaks in five hot newcummers who will do anything to prove they're the whole porn package. Markie takes viewers along for the ride as he explores their every muscle, every hair, every inch - and these guys have inches to spare! Whether you're looking for eager-to-please bottoms, jackhammer tops, or even a bit of both in one feisty go-getter, Markie puts them all through the paces. Which guy makes even seasoned porn pro Markie gasp and moan as he pummels into him? Which guy's so fresh he has to stop to ask, What's rimming? with a sheepish grin? Robert Longwood, Jordan Evans, Brian Strowkes, Brock Avery and J Howling compete on the casting couch to earn points, fame, and a fresh load of jizz. These are real men with real appetites, and they're ready to show off for you with everything they've got. Who gets your vote? A Next Door Casting anthology.