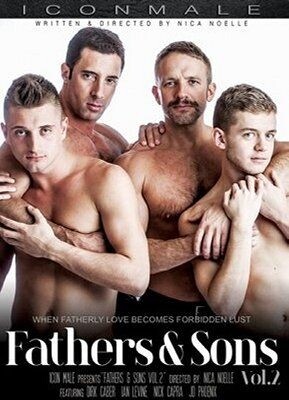 Nick Capra and Dirk Caber play old college buddies who take a winter retreat to the mountains to escape their nagging wives — and bring along their sons for the fun. Tensions mount as the weekend progresses: After some drinking and card play, cute Ian Levine sees an opportunity when left alone with dad's buddy. He puts his hand on Caber's leg: "So we're done playing?" he asks with a smile, refusing to take "no" for an answer as he later sneaks into Caber's bed. The two swap sucks — and it's particularly hot watching Levine open wide and swallow all of Caber's cock, burying his nose into the stud's hairy sac. Levine gets pounded, then later uses his killer smile on JD Phoenix — who also slams the cutie's ass.
Capra also gets two scenes, starting when Phoenix plants a kiss on him outside as they escape from a snowball fight. Phoenix sucks the daddy, his necklace tickling the shaft as he works. He sits down on it, getting the top to moan, "That's it, boy!" The finale has Capra confronting Caber on their encounter in college ("Everyone says it's normal…it doesn't mean anything"), the two soon releasing their pent-up lust. Before Caber offers his ass, he worships Capra's big, thick beauty — the sucking captured in a great profile shot that really shows off the beast.
Synopsis:
When old college buddies David (Dirk Caber) and Mark (Nick Capra) take their young sons (Ian Levine and JD Phoenix) to the mountains for a winter retreat, snowball fights and late night card games create unexpected sexual tension between the pairs. As the gorgeous sons struggle with their taboo desires, they turn to each other's dads for support - and the sexual gratification their young bodies crave. Starring Nick Capra, Dirk Caber, JD Phoenix and Ian Levine. Written and directed by Nica Noelle.