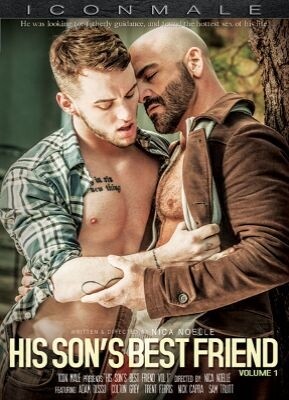 If anyone deserves to be a director's muse, it's Adam Russo. Not only is the man one of the hottest and best performers out there, he's also comfortable and convincing with roles and dialogue. Enter Nica Noelle and her story-based porn, and you have a match made in heaven. Russo plays a dad with some urges he can't control, ones that are ignited when his son's down-on-his-luck friend Colton Grey needs a place to crash. Russo first directs his lust at young hustler Trent Ferris, their hotel room rendezvous ignited by Russo's desire slowly breaking through the surface. Even hotter is the finale, where Grey goes for what he wants, pressing Russo up against the wall for a kiss. Russo flashes a sexy grin as he gets slurped, then gets his furry chest grabbed by the bottom as they fuck.
Nick Capra is rightly another Noelle favorite, and also gets two scenes here to show off his alpha nature and gorgeous cock as a teacher finally getting what he wants — namely former students Grey and Sam Truitt (who plays Russo's son). Capra perfectly takes charge in both efforts, and it's particularly hot watching Truitt stretch his bright lips wide to take in the top's thick slab. Brief behind-the-scenes footage (watch Russo marvel at all the cum!) and bloopers round out the disc.
To order, visit MileHighOnline.com.
Synopsis:
Conservative single father David Grant (Adam Russo) disapproves of teenage son Chris (Sam Truitt)'s mysterious new friend, Jimmy (Colton Gray). But when he learns that the sexy, blue eyed teen is homeless, David agrees to let his son's friend stay in the family guest room. Soon, an intense mutual attraction develops between the distinguished older man and the sultry young bad boy. Will caring father David confess his forbidden gay desires?