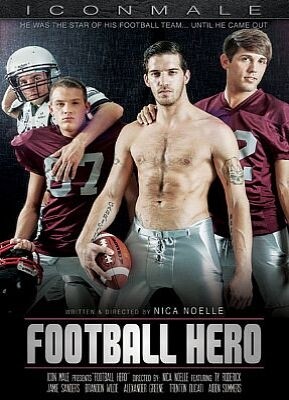 Inspired by the plight of Michael Sam — a pro football prospect who came out of the closet shortly before the NFL draft last year — this four-scene effort revolves around Ty Roderick, who comes out of the closet shortly before training camp. The move draws scrutiny and cruelty from his teammates: "Apparently, what I do with my dick is newsworthy," says the sulking stud. "Stop the presses, right?" Director Nica Noelle starts each scene with a great exchange between two characters, using the film to shine a light on the hypocrisy evident in so much of the criticism Sam faced ("It's not that I'm antigay," says a teammate, "but this is football!").

The performances all around are fantastic — troublemaker Brandon Wilde gets distracted by the massive cock of teammate Alex Greene in the showers, soon getting stuffed in both holes — an incident that later has him blackmailed by horny team doctor Trenton Ducati ("C'mon…I already know that you like it"), who hits his lines perfectly (and also fucks like a champ). Roderick distracts himself with Jamie Sanders, then gets an offer he can't refuse from fellow teammate Aiden Summers ("I've never had the guts to kiss another guy…"). Fans will be distraught to discover that hunky coach Christian X only appears in a non-sex role; how dare you tease us like that, Nica! Get this man naked, now!
Synopsis:
Hot, brooding football hero Ty Roderick decides to come out of the closet just as football season begins, causing his teammates to bully him out on the field. But do their mean-spirited jokes mask their own gay desires? Brandon Wilde and Alex Greene's aggressive horseplay turns to lust in the showers, while jacked team doctor Trenton Ducati uses the boys' secret tryst to his advantage with baby-faced Brandon. Meanwhile Ty can't take the pressure of being an outcast, so he lets off some steam with pretty young things Aiden Summers and Jamie Sanders. Christian X costars in a nonsex role as the no-nonsense football coach.