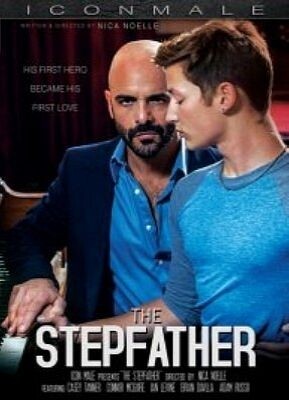 Nica Noelle continues her examination of story-based porn that stares taboos straight in the eye—and has found a muse in Adam Russo, a repeat performer after his role in "Forbidden Encounters." Russo is a man at the top of his craft, combining his gorgeous looks and a superlative performance level with a great understanding of nuance and dialogue; he makes any film he is in a winner. Here he plays a man engaged to be married—but finds himself fascinated by soon-to-be-stepson Casey Tanner, a twink who hasn't come out of the closet yet to his mother.

The tension builds between the two, complicated by a scheming Connor Maguire—who gets jealous of his young boyfriend's diverted attention. Before it's over, the trio will have taken turns with each other—each scene using the story to perfect effect. It's hot to see jock Maguire paired with twink Tanner; while the sequence where Maguire forces Russo to admit he likes dick—forcing the daddy down and unleashing his boner right in his face—is highly charged. Russo also gets a taste of Tanner in the finale, burying his salt-and-pepper chin into the bottom's hole. And don't overlook the scene with Ian Levine hooking up with physics professor Brian Davilla, whose thick dick looks beautiful inside the twink's holes. Also included are brief bloopers and interviews.
Synopsis:
Closeted, middle-aged CEO Adam is engaged to be married to a beautiful woman, but when he meets his fiancee's teenage son (Casey Tanner) his secret gay desires become stronger than ever. Can Adam resist the charms of his slender-bodied, pretty blonde stepson? Or will Casey's controlling boyfriend (Connor McGuire) expose Adam's web of deceit first?