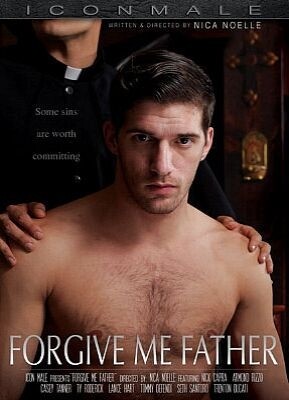 Nica Noelle made waves last year with her romantic, story-driven features through Rock Candy Films — and now continues the trend with new studio Icon Male. The writer/director never shies away from taboo subjects, and Volume 1 of this new series sets itself up as a perfect anthology.

Four men enter a confessional to share their sins with a priest, their stories heating things up before any clothes are shed in the flashbacks. Noelle does a great job building up anticipation, so that by the time the action starts the audience is already aroused.

Lance Hart left his studies to become a priest because he had feelings for fellow parishioner Tommy Defendi, who pays him a visit for enlightenment ("Have you ever had sex?"). Military man Ty Roderick is surprised by his feelings for a young man staying in his mother's home ("I thought he looked like a girl...that was a little confusing").

Trenton Ducati is ashamed that he lusts after brother-in-law Seth Santoro, the two staring each other down before their passions explode in a great fuck (hands clasped as Santoro is pinned to the bed). And tearful teacher Nick Capra tries to abandon a student he is counseling, but Armond Rizzo pays a visit to the hairy muscle man—whose thick dick is soon inside his tight lips in one of the hottest moment
Synopsis:
In Volume 1 of this emotional new series we take you inside a priest's confessional, where guilt-ridden parishioners beg forgiveness for their sins of the flesh. From guilt-ridden teacher (Nick Capra) who falls in love with troubled, young student (Armand Rizzo), to former priest (Lance Hart) who left the church when his desire for parishioner Tommy Defendi became too much to bear. We also find devoted husband (Trenton Ducati) tortured by shameful lust for his hot young brother in law (Seth Santoro), and young, swaggering soldier (Ty Roderick) who unexpectedly falls for "pretty boy" Casey Tanner. Real sex, real positions, real orgasms, no dissolves.