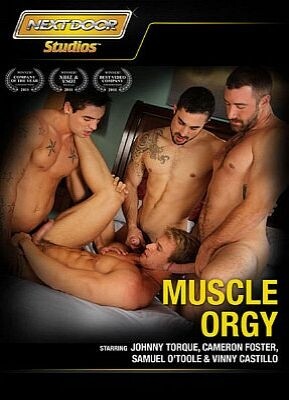 The centerpiece of this five-scene collection is the seven-man orgy filled with the hottest studs Next Door has to offer — starting with James Huntsman stroking his thick slab as the men start to trickle in. It's impossible to keep your eyes off the cocks of James Jamesson and Vinny Castillo, the highlight of the scene having Conner Maguire slurp them back and forth as he gets pounded from behind by Huntsman. Muscle man Cameron Foster spends a lot of time with both of his holes filled, joining Maguire as the real workhorses of the scene. Watch for a hot load from Jamesson, who shoots all over Foster's ass.

Castillo thankfully has another scene, his big meat getting worshipped by Johnny Torque in the all-oral opener. Spit flies to the floor as the tattooed Torque sucks ("Just making it extra sloppy?" smiles alpha Castillo), working up the slab as he slaps his own boner in his hand — the pair letting out two loads apiece. Also in store: Campbell Stevens and Ray Diaz engage in some poolside shenanigans, Diaz staying rock hard as he rides the top; med students Justin Beal and Anthony Romero use each other's bodies to study for an exam in a flip fuck; and Cliff Jensen gets up close and personal with a soccer ball ("it's all about humping and grinding today!") in a solo.
Synopsis:
Muscle Orgy is awesome. We have a 7 guy orgy in this movie for you to have some fun. Don't let this one slip thru your hands.