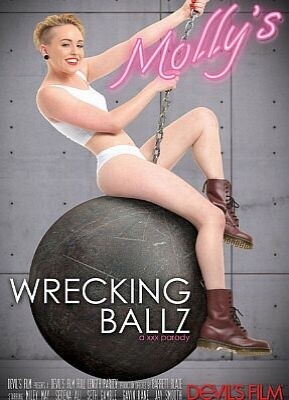 In this Devil's Film XXX parody of the relatively controversial mainstream antics of singer (and, we can only presume, wannabe porn star) Miley Cyrus, director Barrett Blade gives us a remarkable Cyrus lookalike in the form of Miley Mae, who has a much juicier ass than Ms. Cyrus and does the nasty here on camera like you'd wanna see Cyrus do it. Actually, you'd BETTER like the lookalike, seeing as she's the only chickie who gets penetrated by penis in the whole freakin' movie.

That's right, Miley Mae gets fucked by three guys in three separate scenes, with the best schtup coming from a sleazy-looking character whose porn name is, aptly, Jay Smooth. Miley does her twerking thing on some cardboard stage—along with her stupid-fucking faces (one eye shut, her tongue hanging to the side of her mouth that's stretched into a shit-eating grin) as she does a reverse peace sign—before getting it on with Smoothie. I especially liked how he drills her doggie style on a couch, which is where most of our characters do, in fact, fuck in this movie.

Another fairly hot scene is the last one, in which Seth Gamble animatedly slams Miley in the back of a limo (what, not a couch?). Actually, on the subject of jerking rather than twerking, when it comes to blowjobs, Miley, in general, does (for shame!) more wrist work than lips & tongue action. Seth, however, makes her go deep with her mouth on his monstrous love muscle. Good going, Seth! There's also a wee bit of spanking and some nice butt-jiggling action during Miley's cowgirl position.
Synopsis:
Meet Molly, America's favorite stoner who's begging for you to bone her! When this pill-popping party princess isn't busy getting baked on bong loads, she's trying to fill her grill with something other than drugs! She's got enough chemicals inside her body to sanitize a port-a-potty but she still loves to tweck it while you jerk it! Never mind that she can't keep her eyes open and legs closed at the same time – She's losing fans faster than she's losing self respect! Just make sure you don't touch that wrecking ball after she's done with it!