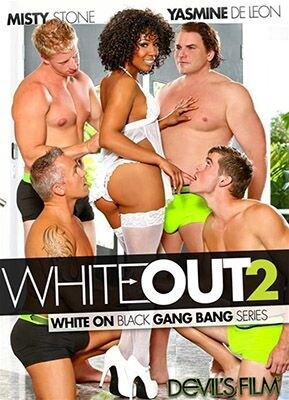 Black sweeties Yasmine de Leon and Misty Stone, separately, take on four white dudes in this rather, well, yes, scorching gonzo from Devil's Film.
Yasmine de Leon begins our gangbang duet with a surefire bang, indeed. After de Leon, very briefly, delivers some glam stuff (writhing) on a big, shiny gray mattress, four white pricks descend upon her. She's an excellent cock-choker, with a sizzling doggie train following on a big white sofa. What a great body/booty on this delectable helping of brown sugar! Yasmine soon takes it up the ass missionary, does a reverse-cowgirl DP, followed by a doggie DP, with the lads pulling a train on her in this latter position. Awesome. And she never stops sucking cock! It's all suck-seeded by a missionary anal train, another doggie DP/anal train, and a blowbang during which the boys splat on her attractive mug. This lady is pretty and nasty, while possessing a marvelously pleasant disposition. Yasmine rocks!
Next, Misty Stone looks/performs as terrific as ever. She begins sucking each guy individually — as they're standing around like, seriously, mannequins, as she descends a stairwell in some two-story home/apartment/whatever — afterwards masturbating upon a couch, with the white boys soon swooping down on her like well-hung vultures. "Don't let me fucking talk," she tells 'em. "Get aggressive." The lads do just that, filling her up, though she, unfortunately, refrains from the anal thang. By the way, love those filthy noises she makes during her blowjobs. Additionally, some of the boys really slam her hard during doggie as she's choking on man-meat. We also love it when Misty's body gets all glistening from sweat and those amazing ass cheeks — like the ones on Yasmine! — jiggle like mad. Whew!
These two gangbangs feature all-natural ebony foxes — total babes, in fact! — with the only drawbacks being that each multiple fuck is a tad too short in my humble (horny!) estimation. Absolutely worth a look-see, though!
Synopsis:
White On Black Gang Bang Series. Misty Stone was craving white meat... she didn't know it came with white gravy! Yasmine De Leon thinks white sauce is boss!