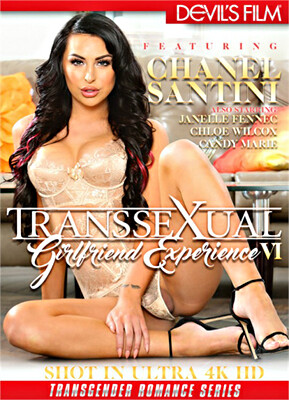 It's clear why Chanel Santini won the 2018 XBIZ Award for Trans Performer of the Year and Model of the Year at the 2018 TEA Show. The star and cover girl of Devil's Film's "Transsexual Girlfriend Experience VI" isn't just stunning on the box cover — she also delivers in the film itself, hard.
The title works in the concept of the GFE well, weaving girlfriend-related storylines with passionate, romantic sex. All four scenes, featuring Janelle Fennec, Chloe Wilcox, Candy Marie and Santini set up loving circumstances for the perfect, hard fuck.
"Transsexual Girlfriend Experience VI" opens with Janelle Fennec and Damien Thorne entering a room dressed to the nines and exhausted from a long night of being stuck in tight clothing.
"Well, I can't believe you finally did it!" exclaims Fennec enthusiastically, telling Thorne how excited she is at having finally met his parents.
"You're very special to me," Thorne says before placing his hands on her shoulders. They kiss passionately, leaning into one another and moaning. Fennec leans back and undresses to reveal purple lace lingerie, just transluscent enough to let her pink, pierced nipples peek through. The two whisper sweet nothings at one another and kiss deeply as Fennec undoes Thorne's pants to show him how much she "really appreciates him."
She drops to her knees and takes his veiny cock into her mouth, her big blue eyes staring up into the screen. Licking up and down his shaft, she kisses the tip of his swollen head lovingly. They lie back on the bed and kiss, the blonde Fennec moaning as Thorne runs his lips and tongue up and down her neck and breasts. He makes his way towards her stiff cock and slips it into his mouth, deepthroating her. She holds herself open for him as he licks down her balls and onto her asshole. Finally, he slips himself inside of her tight ass and thrusts away, spitting on his dick to make sure it goes in smoothly. Fennec moves herself up and down his cock as she plays with herself, rubbing her hand against her dick lightly. She rides him and his face contorts with pleasure as he forces himself into and out of his tight girlfriend, pulling out only to come onto her waiting face.
The next scene opens with a slow, long pan up a woman's pantyhose-covered legs, gingerly placed over one another with fingers slipping over the knees. The camera reveals that the finely manicured hands are bound with soft black silk and that the woman whose hands they are, Chloe Wilcox, is blindfolded. D. Arclyte casually makes his way into the room and Wilcox asks, "Do I make you happy, Daddy?"
"My princess always knows how to make Daddy happy," Arclyte purrs into Wilcox's ear as he leans in to gently kiss her on the cheek. He traces her Adam's apple with his finger, slowly running his lips and hands onto her chest. He whispers into her ear and moves his hand down to her crotch, running a single finger along the white lace panties that barely cover her dick. After some nipple play he pushes her panties aside and takes her pulsing cock into his mouth, sucking on its head gently and resting his hand on her thigh. He licks up and down its length and alternates between kissing Wilcox softly and running his mouth along her cock.
Arclyte positions himself on Wilcox's face, lowering his cock into her mouth and slipping her dick past his tongue. She bucks her hips against his face, moaning, which gets her flipped over and fucked gently, Arclyte pushing slowly inside of her waiting ass. The rhinestone necklace she wears bounces against her chest, her hair tumbling down her shoulders as she groans and grabs the edge of the bed. The blindfold comes off and Wilcox rides Arclyte backwards, staring at him as she bounces up and down on his dick. Finally, she flips over and takes all of Arclyte's hot load onto her face before coming hard, all down her delicate hand. They share a romantic kiss before blackout.
The third scene opens with a bright bedroom where Candy Marie stands looking through pale white curtains. She wears a grey fitted jersey dress and black stockings and gracefully holds her hand against her chest as Will Havoc comes up behind her.
"Penny for your thoughts?" he asks and she smiles, slightly startled. They discuss being late to a play and she laughs.
"Fuck the play!" Marie pushes Havoc onto the bed, clearly ready to fuck something else as well. She straddles him, her round ass filling her tight dress perfectly. They kiss and she rubs against him slowly, running her clothed crotch against his. He undresses her and licks her nipples softly while holding her purple bra aside. He takes out his member and she slips it into her pierced tongued mouth, leaning over to take the whole thing in between her pink lips. He returns the favor by bouncing his mouth up and down on her, putting her entire dick down his throat. They alternate, moving into a 69 where the tattooed Havoc jiggles his cock into and out of her mouth. He slips out and moves to put his wang against hers, rubbing the side of her shaft with his own hard dick.
She grabs herself as Havoc slides his cock inside of her, pumping into her ass as she leans backwards in ecstasy. Her hoop earrings sway as he forces himself against her, making her moan. She rides him backwards, holding herself up on all fours as he thrusts inside of her. Wilcox pulls himself off until he comes on her face and tits, slapping her gently on the mouth with his dick as she licks herself clean.
Lastly comes the main attraction, Santini, joined by Lance Hart. Hart tells Santini that he's lonely in his big house and wants her to move in and she quickly agrees, clearly ready to move into something else as well. She sits on his lap, her buxom chest bouncing out of the black cocktail dress she wears. Hart slips her cream-colored lace panties aside to play with her hard cock, stroking the base of it as she spreads her legs and moans. He moves quickly to worship her ass, kissing and squeezing it. He switches to pay attention to her full cock, sucking it and running his hand up and down its head.
They kiss as she takes her full dress off to reveal a corset that matches the panties sitting right above her curvy hips. Hart pushes Santini onto the couch and rubs her, licking her nipples before turning his attention back to her dick. She sucks him off in turn as he moans and leans his head backwards. She slips his shaft deep into her throat and bobs on it, paying special attention to the base.
Santini rubs their dicks together, jerking them both off in one time-saving motion. She slips onto his lap, leaving her heels on for extra leverage as she bounces up and down on his thighs. Her cock bounces around and she flips her hair, turning back to look at Hart lovingly as he pounds her in the ass. She jerks off her big cock before, unable to hold back, flipping him over to give him a taste of her hard fucking. He slips inside her one last time as she pulls on her cock and slides her hands up and down his arms, looking at him lovingly. Her face twists as she comes onto her own stomach, before Hart comes inside of her pursed lips and onto her chin.
Synopsis:
Transsexual Girlfriend Experience 6: Once he experienced it, he couldn't get enough.