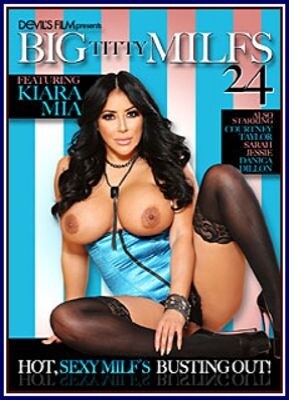 Care of Devil's Film, veteran vaginas with augmented tits are the specialty here (four ladies, as per usual), with the highlight being the final scene with Kiara Mia, the best big-boobed bimbo of the bunch.

Actually, except for Sarah Jessie, three out of the four women have hot asses and are excellent cocksuckers. But, since the focus is all about big boobs, we see less butt and more (fake) breasts. The cocksucking is prominent, though. And, yes, Courtney, Danica, and Kiara are all superb dick-devourers — particularly Courtney, who really gags on John Strong's schlong.

But it's Kiara Mia who's the 'big' selling point here (both boob- and ass-wise), and chosen as the DVD boxcover model for an obvious reason. This LA-born Latina has tits that actually look kinda real and her ass is porn's version of Kim Kardashian: way big, bordering on massive. And, yes, she has an exceptionally pretty face (quite KK-ish, as well). Our big and beautiful Hispanic hussy also doesn't mind getting that prominent bottom of hers slapped hard by Derrick Pierce, whose cock gets the sucking of its life. Unfortunately, Mia's doggie session is too short for my taste, and the camera angles on that abundant ass should have been far better in terms of capturing the inevitable (and always sexy) jiggle effect.

If you like large fake boobies on slightly older floozies, then you'll eat up "Big Titty MILFs 24." But you'll totally devour Kiara Mia. In the future, however, Devil's Film should throw anal into the mix to spice things up with these older DD-dames.
Synopsis:
Hot, sexy MILF's busting out!