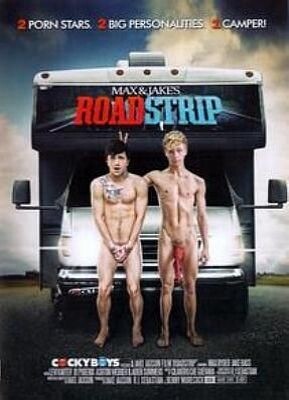 Following the smash success of "Project GoGo Boy," Jake Jaxson realizing he had stuck gold with Jake Bass and Max Ryder conceived this pseudo-documentary, pseudo-reality effort that follows the two friends in an RV as they get into some high jinks in a trip across the country.

"We have one of the weirdest relationships I've ever had," says Ryder. "It's a love/hate, hate/ hate, hate/love kind of relationship." The unique interplay between the two infuses the film with an energy and spirit that is rare among most porn efforts, the blend of scripted setups, improvisation and more natural, honest musings (like Ryder's great interview at an IHOP) keeping the viewer intrigued.

Along the way, we see the two perform at clubs, accept an award and get into some naked fun all the while staying true to their smartass selves, making each other (and the viewer) laugh. Ryder feasting on Ashton Webber's cock is a highlight (the two then flip fuck), while Bass fucks Levi Karter. The two buds then get into some side-by-side fun with JD Phoenix (who gets fucked by Bass) and Aiden Summers (who sucks Ryder) before their new friends get into their own fun.
Synopsis:
Coming off their stellar performances as bitter rivals in the award-winning & groundbreaking film 'Project Gogo Boy,' Max Ryder and Jake Bass set upon a journey of self-discovery that tests their friendship and their resolve. Heralded as the '(Fuck) Buddy Movie of the Year,' Road Strip is an intense into the real lives of two of the most popular young performers in gay porn today!