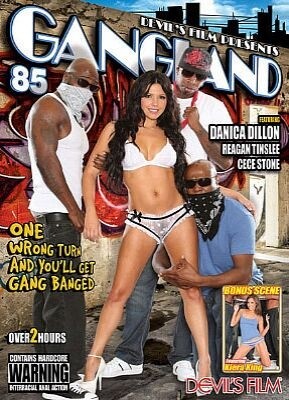 In "Gangland 85," groups of three bruthas from the hood (hence the term "Gangland") band together to fill up some unsuspecting—yet, ultimately, willing and, quite visibly, famished— white bitches with some hefty servings of blood sausage, with the awesome Danica Dillon stuffing definitely being the movie's highlight.

But don't get me wrong: Tinslee Reagan and CeCe Stone provide an excellent build-up to the superb Danica Dillon finale. Tinslee is, in the most complimentary use of the phrase, pure white trash. This peroxide-blonde slutaroo meats her match when she hooks up, in a dark (very dark) urban underpass with three black goons (a bit of the old Clockwork Orange… or Clockwork Black, if you will). Our fine gentlemen offer to walk the nervous waif home (how chivalrous!), with our girl quickly turning into a rabid cock-whore once they throw her upon her own mattress. There's even a little DP action here. Enjoy.

In gangbang #2, CeCe stars as a cute housewife who's upset because her husband's best friend (just outta prison… isn't that nice?) has overstayed his welcome in their home. Ever sympathetic, hubby demands that she chill out and be nice by sucking the poor jailbird's neglected dick. Now that's what we call sensitive. She obeys. In fact, CeCe eventually takes on a triad of black adders who really slap her cute little ass around, with a shitload of DP action. And what a visibly tight little butthole CeCe has!

But the best is saved for last: Danica Dillon. She's contract-girl material who does nasty gonzo. In our scenario, three bro's break into a fully furnished house for sale, with Danica, a real estate agent, unexpectedly arriving on the scene. They jive her fine white ass into believing that they'll give her cash money for the pad if she'll seal the deal with a bang. Wanting her three percent cum-mission, the greedy bitch is game. And what a superior trollop she is: anal, DPs, deep-throating… Danica also has a great, upbeat attitude, while providing plenty of eye contact. And she's a dirty talker, too! "Feel good?… fucking my tight little asshole?" Love this woman! Hell, this cunt/throat/ass-rockin' 85th volume of "Gangland" even gives you a bonus gangbang with Kiera King, who's a way-cute gal with one way-taut body.

All in all? "Gangland 85" absolutely provides more (gang)bang for yer buck! Get it!
Synopsis:
Even the hottest chicks want giant black cocks sometime, and these three gorgeous girls want it big time! And when they get a craving for cocks, they know where to find the best interracial gang banging on the planet... GANGLAND!