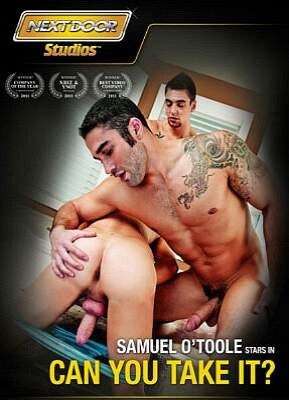 Oh, Samuel O'Toole... we just can't quit you! Thankfully, neither can Next Door Studios, which gives us five scenes featuring this dark-haired hunk. "Artistic Touch" pairs him with Connor Maguire, who accepts something other than cash for his paintings. The chemistry between these two is especially energetic O'Toole is such a strong performer that he can easily overtake a scene, but the charismatic Maguire is right there with him every step of the way (his accent makes us melt almost as much as his smile).

It's rare that a bottom can spar so well with a power top, but the handsome Maguire is a special performer—and when that big cock flies out of his underwear and pops into a surprised O'Toole's face ("Damn!"), you'll squirt right away. The two swap sucks, Maguire then taking it up the ass like a champ.

O'Toole looks mighty fine in a cop uniform and an old-school porn mustache, pulling over Lucas Knight before fucking his brains out in "In the Meat of the Knight" (listen for the top's "Dayum!" exclamation as the bottom squirts a gusher). The top also joins Johnny Torque in tag-teaming the holes of twink Kyler Ash in "ReModeled," and also stuffs Brad Fox in "Sexual Reflection." A hot solo completes the action, O'Toole teasing us as he squeezes his pre-cum out in "Watch Me."
Synopsis:
We sure hope you'll be able to take this cock-load of hunky men. Watch as Samuel O' Toole and friends show you a good time. You can't go wrong with hot muscle bound men!