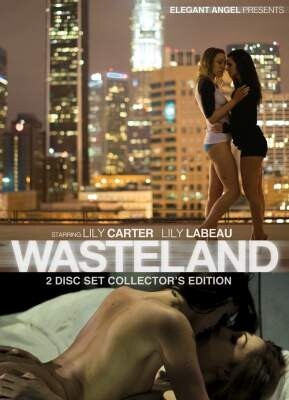 The two Lily's have never been better. What makes "Wasteland" work is the chemistry between the gorgeous co-leads who share the screen for most of this sexually explosive drama filled with pain and passion. Showcasing equal parts acting range and sexual ferocity, Lily Carter and Lily LaBeau inject "Wasteland" with palpable emotion and hardcore intensity as they bring the screenplay from director Graham Travis to life through a series of flashbacks and real-time encounters.

The story follows Anna (Carter) and Jacky (LaBeau), who were best friends in high school in Arizona but haven't seen each other in five years, as they reunite in Los Angeles for one marathon night of drinking, reminiscing and unbridled sexual depravity.

Their joyful reunion turns more complex as the night goes on and they bare their souls to each other while also engaging in a series of spontaneous sexual escapades. There is sexual electricity between Anna and Jacky, who ravage each other a few times during the night in between bouts of melancholy and tearful reflections. Their relationship is at once loving and volatile.

Jacky has become a realist with an insatiable zest for sexual adventure, a hardened city girl who fucks with abandon. Anna is less secure with her sexuality and her place in the world, struggling with adulthood as she grapples with the baggage of being raised by her terminally ill grandma after her parents died in a fire. She yearns for a connection with the only person with whom she's ever felt connected — even if Jacky has also been the source of heartache for her because of her penchant for stealing guys.

They hit a local nightclub, and Jacky takes a man she just met (Manuel Ferrara) into the ladies' room where she bangs him, while Anna nervously spies from another stall. They leave the club and get into a stranger's truck. Jacky sucks off the stranger (Karlo Karrera) in an alley, coaxing Anna into joining her as they get him off in a gritty, surprisingly hot session. In the movie's climactic scene, Jacky takes Anna to an underground sex club she frequents and Anna gets an education in wanton lust, throwing down in an incredible orgy in which both girls give as good as they get. During the scene, which includes a couple dozen masked voyeurs for added intrigue, Carter does what is believed to be her first on-camera double-penetration.

The movie ends fittingly on a less than cheerful note, leaving the viewer to think and reflect, much like the protagonists. Travis captures the mood of "Wasteland" with a visually stimulating mix of long close-ups and sweeping exterior shots that convey the pulse of the city at night. And the sex is shot in a way that brings the audience into the room with the performers, with careful editing that doesn't interrupt the moment. Add to that the original soundtrack that keeps the whole movie feeling authentic and Elegant Angel's new feature without question is one of the highlights of adult entertainment in 2012.
Synopsis:
Wasteland stars Lily Carter and Lily LaBeau in the lead roles and is written and directed by Graham Travis. The movie tells the story of Anna and Jacky, old school friends who have not seen each other in many years. They are reunited on one passionate, emotional, and sexually adventurous, emotional, and sexually adventurous night in Los Angeles. Featuring powerful performances by the lead actresses, and breathtaking cinematography, Wasteland is a unique adult movie that blends a deep and heart-felt storyline with intense and unforgettable hardcore sex scenes.