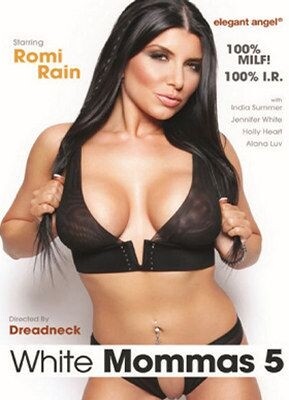 Black dudes penetrate white, very slightly ripened white broads in this Elegant Angel in-and-outing. All five women and all five scenes most definitely rock, with ebony cocks memorably jamming the brown-eyes of ivory whores in all but one episode/asshole.
We start off strong, too, with DVD cover model Romi Rain, 27, energetically boning/getting boned by Rob Piper. There's, actually, not much of storyline in most of these scenarios, especially this first one, as Piper is, quite openly, watching Rain strip, quite obviously for Piper, in the backyard of some slightly upscale home, before the two pervs engage in outdoor oral nastiness; before, that is, the two degenerates magically appear in a bedroom, with Romi taking it everywhere but her crapper, which is surprising, seeing as she DOES do anal. Still, she's a passionate little fuck-socket, excellent in the doggie position, with those little butt cakes jiggling madly. Deepthroats Piper like a champ, too.
India Summer's husband is away, so she enlists her black neighbor, Jon Jon (living in a mobile trailer), along with his upwardly mobile black schlong, to come over and fix her garbage disposal, with the fools making endless, lame "plunger" and "clog" references during their heated tryst. India looks terrific with one of the tightest bods in the industry. Actually, no tats and no bodily surgery make her stand out all the more. She's also, atypically, wearing makeup here, adding all the more to her underrated attractive looks. Not only an outstanding cocksucker, Summer performs professionally in any position, as Jon Jon slams her on a big white smut sofa. We also dig it when he does eventually plug her garbage disposal, as it's slow, deep, and nasty ass-rootering; although doggie-anal IS disappointingly missing. Shame.
Next, in a true showstopper, superwhore Jennifer White takes on Prince ("THAT'S what I'm talkin' 'bout) Yahshua. Rather than have his on-screen wife go out with the ladies dressed like a hooker, PY prefers to bang her at home. Brunette Jennifer has those classic porn star looks — from big liquid eyes and thick cocksucking lips, to perfectly suckable natural tits and pear-shaped butt. And, boy, does she work PY's cock in the cowgirl position. Wow! Those luscious White butt cheeks are all OVER the place. His big black sausage also slips effortlessly into Jenny's hot-buttered asshole, with PY diligently drilling for dung. White also, very filthily, cleans off his prick with her mouth after it's yanked out of her pooper — no hands! Lotsa doggie her, as well, for lovers of that classic bend-over position. Superb tramp, that White girl!
Next, in one of the movie's better storylines, Holly Heart (a pretty good actress) plays a slightly prudish though, conversely, sluttily dressed door-to-door representative of some lame cult, allowing Jon Jon to hornily seduce and rockingly ream the trollop whilst she's visiting his home. Heart is another classic-looking porn star, what with her platinum blonde hair, pretty face, big boobs, big ass, and, better still, big appetite. A passionate cunt, she looks awesome in all positions, with her garter belts potently embellishing her sexy appearance, especially in the spoon position, as Jon Jon powerfully hammers her. Heart also knows how to really ride a dick with her anus.
Lastly, the extremely pretty, non-porn-looking Alana Luv (don't have any stats on her age, but she's only done about 10 movies) gets it on with Moe Johnson in a strong ending, indeed. Not the best deepthroater but not such a bad cocksucker, either, Alana looks as if she's still finding her way in XXX, being a relative newcomer. Yet the fact that she's so willing to do anal is nothing but a plus for her.
"White Mommas 5" gets off to a passionate start and keeps getting progressively hornier, although my favorite scene is smack dab in the middle, with the Jennifer White ass-plugging — and it's great that we get FIVE not yer typical four paltry sluts/scenes. Definitely worth a look-see.
Synopsis:
Elegant Angel presents "WHITE MOMMAS 5" Elegant is bringing INTERRACIAL back! 5 super hot mommas taking the big black dick including super star ROMI RAIN in her 2nd ever IR scene and AVN MILF Performer of the year INDIA SUMMER taking a giant BBCin her ass! 5 brand new scenes including 4 anal scenes!