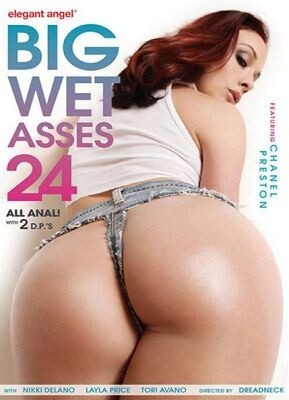 Created by missing-in-action (and sorely missed!) director Thomas Zupko way back in 2003, Elegant Angel's Big Wet Asses series — we're elated to report! — is still going strong, with this torrid 24th volume being yet another wanking winner. Sure, all four scenes/all four big, oiled-up female posteriors are definitely worth checking out. But the best butt-trysts feature hard-to-believe-she's-in-porn Chanel Preston and peroxide-blonde uber tramp Layla Price.
After Chanel Preston (via porn-glamour photography) and her curvaceous figure are all shiny with oil, she (and cunt, and ass) take on Ramon Nomar's Spanish hot dog, which she enjoys with no little amount of relish. Starting off with a dildo up her shitter to get things loose as a goose, Chanel is bent over, letting Ramon pump her pussy. No oral prelude to the sex here, just — BANG! — right into doggie style. And when she DOES take it up her on-fire fudge factory, Chanel is a great ATMer, never cheating a bit. Aside from both of performers (especially the ever-jabbering Nomar) talking too much, there's a familiarity between Preston and Nomar which aids in, foolishly, distancing the viewers. It's an over-familiarity which comes across as cliquishness, as if the camera wasn't even there. But, then again, perhaps that's what some viewers want. I found it annoying. But, still, Chanel is always a joy to behold; that too-pretty-for-porn face (making her look like she should be running a lawyer's office somewhere in Century City rather than getting her asshole blown out on-camera on a regular basis) and that wildly jiggling pair of shiny butt cheeks in the anal-cowgirl position... Whew!
Yet the most out-of-cuntrol scene follows, with lust demoness Layla Price going positively bonkers with a dynamite double penetration. Price's name is certainly ironic, seeing as the bitch is such a downright slut, she'd put NO price on getting fucked. Hell, Price would hump the mailman for a stamp! And that amazing bubble butt was simply MADE for porn! Here she takes on Euro trashers Mick Blue and Ramon Nomar in a stark white, rather tasteful-looking living room. After sticking various dildos and vibes up Layla's vadge and poop portal, they finally start banging her. She's one of the best cocksuckers in the biz. Rude noises. Oodles of saliva. Major deepthroating. Never letting up. Magnificent!
And, naturally, Layla also offers a salaciously superior DP — yes, in both doggie and reverse-cowgirl positions. Hell, there's even a double-ANAL penetration. Fantastic piston pounding. Price-less butt-cheek jiggling action. Actually, Mick Blue really gives Ramon a run for his money, as the Austrian ass-hound frequently hammers Layla's anus with such ferocity/velocity, she looks as if on the verge of a total nervous breakdown on several occasions. Outstanding whore!
Our other two BWA lust bunnies also fantastically flex their fornicating muscles, i.e., mouth, cunt, and anus. Actually, I'm always amazed at the deliciously puffy nature of Nikki Delano's pussy. I also love the fact that she, too, doesn't cheat on ATMs. And as Toni Ribas squirts Spaniard spunk on her asshole, she's whorishly speaking Spanish, with that big ol' butt of hers looking great in any position. If you like fair-skinned fuckholes, Nikki's your girl. And if you like dark-skinned ones, heeeeere's…Tori! — Avano, that is. After the oily glam shots cunt-clude, we pretty much go straight (upon on a porn sofa and) into a doggie DP, with Mr. Pete and John Strong doing the dirty drilling doo-duties. Tori's another hot cunt who never wipes off a just-out-of-crapper cock before she licks it clean. And, next to Layla, she may be the hardest-working tramp in BWA 24, offering almost as much jiggle and wiggle with her big, shiny butt muffins as Ms. Price. And don't mind the running mascara, as Tori gets totally sweaty from getting seriously skewered by the slob-eroos.
"Big Wet Asses 24" is a rollercoaster ride from beginning to end, with plenty of fine-fucking ends taking it deep in their dung dungeons — especially Chanel and (even MORE the whore!) Layla.
Synopsis:
Elegant Angel proudly presents Big Wet Asses #24, the newest volume in the multi-award winning series dedicated to the biggest, roundest, and most beautiful wet rumps in porn. Big Wet Asses #24 is slippery fun guaranteed to thrill ass aficionados everywhere. Enjoy!