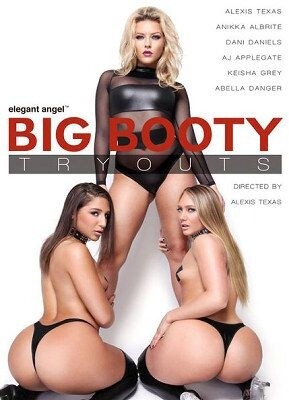 It should come as no shock that Alexis Texas's directorial debut is a bonanza of booty so bountiful that some viewers may need a shower by the end of the opening credits.
To call these "Big Booty Tryouts" is an understatement. This is more like the Big Booty Olympics. We're talking booties so thick, juicy and luscious it's damn near criminal.
The starting lineup must be seen to be believed: Keisha Grey, Anikka Albrite, Abella Danger, AJ Applegate and Dani Daniels all join Texas on the Bootylicious All-Star Team that seems hell-bent on world domination.
Texas sets the tone early and often with lots of generous tease and long butt-worshipping shots that capture every inch of these girls' mouth-watering behinds.
Scene one unfolds in an outdoor pool that looks like a miniature lake. Texas leads off twerking, shaking and shimmying under the California sun. Then Keisha Grey walks up and decides to jiggle her butt cheeks along with Texas in an embarrassment of booty riches.
They make out and Alexis pours baby oil on Keisha's ass. They eat each other and stack each other. Are you kidding me? Just when you think they might be finished, they go inside to a bedroom where Bill Bailey is waiting for them. The lucky stud takes it from there, jack-hammering them both into next Tuesday.
The next scene matches A.J. Applegate, Abella Danger and Texas in a triple threat of booty badassery that can't be stopped and is barely even contained. The rump shaking here knows no bounds before they use an intimidating dildo on Danger's snatch.
Texas gives us no reprieve in the third scene, keeping her foot firmly on the gas pedal, as she and the curvaceous Dani Daniels get nasty on a stairwell.
The finale features a little bit of a twist. First we see Performer of the Year Anikka Albrite seducing viewers outside before she joins Texas and Tommy Pistol in the living room.
Those wanting this three-way to happen will have to wait as Pistol only gets to fuck Alexis' Fleshlight before she exits stage left. But Pistol and Albrite put down a sensational boff that starts strong and doesn't let up until he pops on her tush and Texas returns to make out with Albrite.
This title was worth the wait as Texas & Co. have created a booty bash fit for a king.
Synopsis:
Elegant Angel presents BIG BOOTY TRYOUTS featuring Alexis Texas' directorial debut and her 1st few scenes in her porn comeback! This movie has it all Anal, Girl Girl, 3 ways and most of all ALEXIS TEXAS! BOOTY BOOTY BOOTY starring the biggest, best and hottest asses in porn today! An amazing All star cast including Anikka Albrite, Dani Daniels, AJ Applegate, Keisha Grey, Abella Danger and of course Alexis Texas!