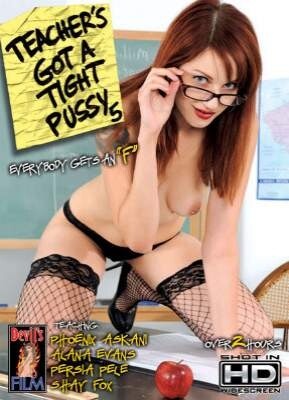 These teacher-student sex clashes would get a lot of educators in trouble if they happened in real life. Fortunately, in porn, anything goes. Big-breasted Shay Fox puts the make on Alex Gonz in her wood shop class. Alex gets some wood of his own and teach helps him "take care of that." Persia Pele has to deal with a student who can't pay attention in class. He can, however, focus on sex. "Show me how much you want to graduate," she screams as he hammers her.

Alana Evans visits Kris Slater's house to talk with his parents but they're not home. When he plies her with champagne she gets tipsy and starts hitting on him. He admits to wondering how tight her pussy is, and in a flash he's finding out. Phoenix Askani is annoyed with Julius Ceazher, who's late for a tutoring session in the metric system. "How many centimeters is this?" he asks, grabbing his dick. Phoenix can't wait to get her mouth on it. "I went to college," she tells him, "I deserve to be fucked real good." He leaves her with a creampie, which oozes out on her desk.
Synopsis:
It's hard to concentrate when your teacher is smokin' hot! Just imagine how good she should suck your cock! Well stop fantasizing and start fucking! These teachers are real sluts. They love hard, young studs fucking them and cumming all over. But first you have to finish your homework!