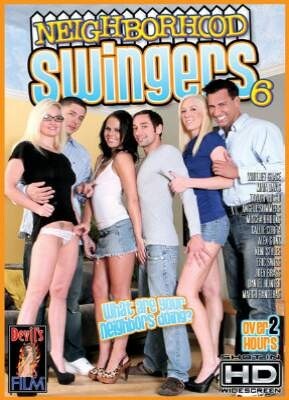 Mr. Rogers would be spinning in his grave if he knew what was going on in suburban neighborhoods these days. Borrowing tools and cups of sugar have given way to orgies and partner swapping, or so the degenerates at Devil's Film would have you believe in this kinky-hot swingers release. Only two scenes are featured, but they collectively clock in at about two hours, include three couples each and are fully loaded with fun activities such as anal, DPs, and facials.

Whitney Grace, Taylor Russo and Maia Davis get things started at a football viewing party with their respective boyfriends. The game has got the guys feeling edgy, but tensions rise even further when it becomes apparent that Marco Banderas could care less about football (most likely a soccer fan), has eaten all the chips and is fondling Taylor's ass. Whitney and Maia quickly defuse the situation by getting naked and dyking out. Taylor opens up for DP, and all is good once again among the friends.
Synopsis:
Just another weekend party at the neighbor's house?... Think again! This neighborhood is full of Hot, Sexy Swingers that get together just for the FUCK of it.. Literally! Any excuse will do... Watch the game, Play some poker, everyone is down for a Fuck Party! These naughty neighborhood girls are very generous with their bodies and these guys are VERY grateful! Same time next weekend?