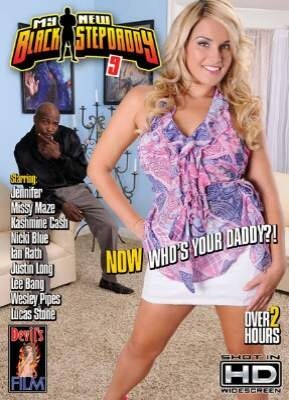 While not as incendiary as previous volumes, "My New Black Stepdaddy 9" opens with a fucked-up scene guaranteed to scare the shit out of white divorced dads. Wholesome-looking teen Nicki Blue is escorted by her biological dad to her mother's apartment. Her new black stepfather meets them halfway up the stairs. He immediately embraces Nicki in his strong arms and caresses the small of her back.

Nicki quickly parts ways with her suspicious father and follows her stepdad to their loft, where she will continue to learn how to make love to a man. They pick up where they last left off: kissing and dick-sucking. Nicki tells him, however, that she's promised her parents to remain a virgin and can't give up her pussy. So … he fucks her ass. Nicki looks uncomfortable while accommodating the enormous cock. Still, she manages to stay in character, uttering ditzy, innocent things while clearly being stretched to her limits.
Synopsis:
Mom is getting her some BIG BLACK dick and the girls are curious about all the loud noise coming from her bedroom. So while Mom is out, why not take the BIG BLACK COCK for a test ride? Hey there's nothing wrong with keeping it in the family.