Don't Tell My Wife I Assfucked The Babysitter 4
Devil's Film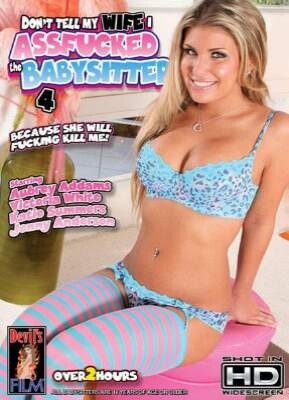 If you like a little context with your stroke material — but don't want to endure 90-minutes of pretentious (insert big studio director name here) dialogue — you can't go wrong checking out one of the many vignette series from specialty masters Devil's Film.

As you may have guessed, "Don't Tell My Wife I Ass Fucked the Babysitter" taps into that age-old urge fathers get to fuck their brat's caregiver. This, the fourth installment in the series, is a particularly hot outing, featuring cute Lolita's and dirty sphincter-stretching sex.

Each of the four scenes opens with a humorous, improvised set-up that finds our babysitters in compromising positions. Jenny Anderson, who bears a slight resemblance to Hollywood starlet Emily Browning ("Sucker Punch"), is the prettiest of the girls and turns in a believable performance as an irresponsible sitter trading in her shit-locker for a second chance at employment.

Hottest surrender, however, goes to Victoria White who not only gives up her tight California girl ass, but proves to be an impressive ball sucker.
Synopsis:
Your plan is working perfectly. Convince your wife she needs a babysitter so she can shop more, hire the hottest girl you can find, and when your wife is out... Assfuck that babysitter until she can't sit down. Yes, these cute, young sitters are just doing it for the money, but you don't give a fuck!