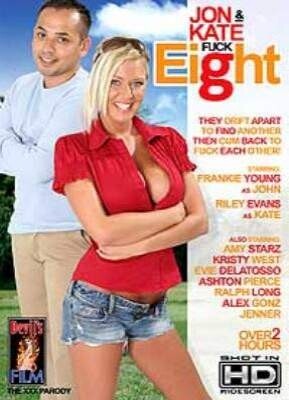 The parody wave continues with this knockoff of the reality show. The kids have thankfully disappeared and the slant of the parody is definitely pro-Jon, presented here as a put upon husband married to a self-centered shrew.

Couples therapist Evie Delatosso suggests the couple see other people, and sends Kate off so she can get some one-on-one time with Jon. Kate trysts with "one of the PA guys, what's his name? Ralph, I think." Ralph tells her she's a bitch and treats everybody badly. "You're just evil," Ralph says to her. Kate tells him "You're not doing anything right now" — and gets him to do her. Jon gets on the see-other-people bandwagon with Amy Starz and Ashton Pierce at a local bar; Kate meets two fans at the park ("They recognized me, of course.") and takes them home. For the finale, Jon and Kate get back together and maybe even reconcile.

Riley Evans effortlessly takes the Kate role and Frankie Young shines as the hapless Jon. Some of the dialogue and situations must be based on fact: A prima donna is a prima donna whether in adult, mainstream or reality TV.
Synopsis:
Their relationship had grown cold and a visit to a marriage counselor seemed the only option. Surprisingly, he had a novel solution to their problem. Realizing that they were each dealing with the "Wandering Lust" syndrome, he told them that the only way they would ever realize that they still had a good marriage was to see what it was like on the outside... in other words: go out and get laid! And did the therapy work? Did Jon and Kate realize the error of their ways or were they destined to spend the rest of their lives in a hedonistic orgy of illicit pleasures?