Le Wand Crystal Yoni Eggs
COTR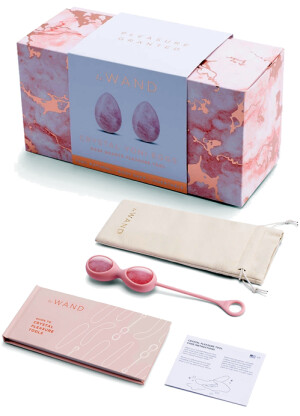 When I laid eyes on these eggs, I was immediately captivated. You see, I have been a long-time believer in the power of crystals, especially when they are comfortably inserted into my vagina, a.k.a. yoni (the ancient Sanskrit name of the birth canal). Think of them as gorgeous, stone ben wa balls that can be inserted for strengthening the PC muscle while doing those all-important Kegel exercises. For years, I have been inserting these beauties before I go to sleep, and then, I have the most satisfying, erotic dreams. They never fail. And sometimes, I use the rose quartz yoni eggs for romantic dreams, or I use the jet-black obsidian ones because, well, sometimes, I love to have those dreams, too.
Manufacturer Description:
Awaken your inner strength with the new Le Wand Crystal Yoni Eggs — A set of yoni eggs crafted from a natural crystal that's available in beautiful rose quartz and black obsidian.

Used for over 2000 years by the Taoists in ancient China, sex educators are now rediscovering these secret practices for using yoni eggs to strengthen the pelvic floor.

By inserting the Le Wand Crystal Yoni Eggs into the vagina, you may reap an astounding array of physical and sexual benefits.

Copyright © 2023 Adnet Media. All Rights Reserved. XBIZ is a trademark of Adnet Media.
Reproduction in whole or in part in any form or medium without express written permission is prohibited.