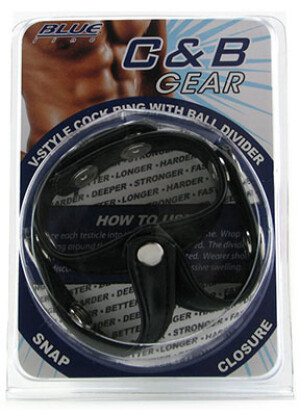 What you see is what you get with this one. A clear plastic clamshell shows off the pleather cock ring with pleather ball divider provided by Blue Line Men. This product is broken down to its simplest form. Three loops all sewn together with two adjustable snaps per strap. Luckily there is a picture on the back showing proper application. I love that it comes with two snaps per loop to fit an assortment of sizes. It definitely works to restrict blood flow and prevent contractions.
Product Description:
This ball divider/cock ring will separate testicles while constricting the flow of blood to the penis. The device will keep the testicles in place, providing enhanced sensations and stimulation for the wearer.