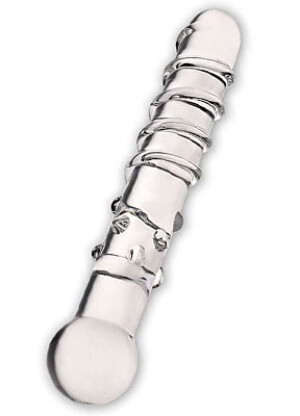 We were exceptionally pleased with the performance of this glass dildo. There are swirls that circle the shaft from the tip to half its length. These swirls are everything. They provided so much stimulation to the G-spot, I almost forgot about every other toy in my collection. This dildo would make a nice gift for any lady friend. I prefer my dildos a little thicker, but this is just nit-picking of a near flawless toy.
The Calisto Clear Glass Dildo by ElectricDistro comes in a plain, white, cardboard box displaying the true-to-size image of the glass piece on all four sides. This clear, glass dildo feels solid in your hand. It is simple but very pretty and very unintimidating. The glass is easy to keep clean, friendly with just about any lube and you can clean it in your dishwasher!
Product Description:
A minimal design for maximal orgasms. Spiraled ridges and thick nubs massage all your inner curves. Perfect for finding and manipulating the G-spot. Fracture-resistant and hypoallergenic, this toy can be easily cleaned. Retains heat and cold for increased stimulation. Compatible with all lubricants.