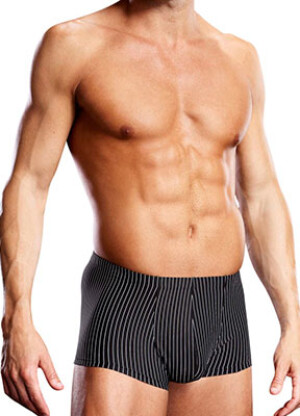 These are the trunks for the refined and sensual man. The white pin strips go great underneath a well-tailored suit while the cut gives full coverage and support in all the right areas. They comfortably give ample support to your package and hold it right out in front letting your dress pants announce to the world you are in charge. The best part after a long evening out in the city is when your partner takes off your pants and gets to see what you have been wearing all night long.
Product Description:
Classic trunk in sleek, moisture-wicking microfiber. Shape and material support and enhance your size and profile. Durable material for ultimate shape and stretch retention.
(BLM003-BLK)