nobü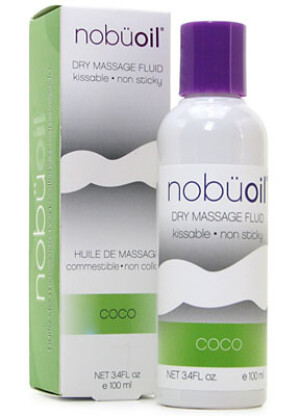 The stress was melted away when I got a deep back massage with the nobüoil dry massage fluid. It was perfect. The smell was very light but had a sweetness that reminded me of summer nights on the beach. The viscosity was just the right balance that was not runny or thick and sticky. The oil lasted a long time before more was needed. I eagerly waited for the moment right before Chris would reapply the fluid when he would adorn my massaged body with sensual kisses. The dry massage fluid is very kissable and non-sticky. Just thinking about getting a massage with the nobüoil Dry Massage Fluid makes a stressful day a little more bearable.
Manufacturer Description:
Completely unique in texture, intensely lubricating and ultra silky with absolutely no greasiness or leftover slipperiness after the fact, nobüoil Dry Massage Fluid presents an innovative, kissable way to increase the pleasure of a lovers touch.
Spreading over desired body areas with ease, nobüoil's velvety, blissfully natural liquid formula sits feather-light on the skin, transforming itself into a delicate layer that ensures an incredible friction free surface with zero greasiness, drips or drizzles. Though not technically 'dry', the effect is definitely unique, reminiscent of a silky powder, completely unlike the average oil.
Nourishing, moisturizing and predominately natural and scented subtly and pleasantly, nobüoil contains recognizable, vegan friendly ingredients, namely sunflower, safflower, avocado and pecan oils along with vitamin E and a coco aroma.
Copyright © 2023 Adnet Media. All Rights Reserved. XBIZ is a trademark of Adnet Media.
Reproduction in whole or in part in any form or medium without express written permission is prohibited.