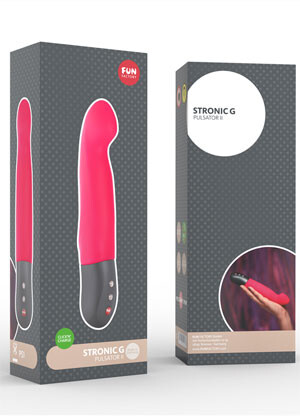 Amazing, amazing, amazing toy! I always love anything I get from Fun Factory and this is no different. This in fact is one of my favorite things I have used from them. It is one of the most unique toys on the market. This version is slimmer and lighter than the original but it still packs the same punch. Also different is this one is more targeted for the G-spot. The toy thrusts back and forth on its own, so you can just lie back and enjoy the orgasm adventure that it takes you on. The Pulsator technology it uses is completely unique to Fun Factory. Your G-spot responds amazingly to this type of stimulation. It is made of silky smooth silicone and is completely rechargeable. Its controls lock so you never have to worry about it turning on in your suitcase.
Market Appeal
Having a sample in stores for people to check out is key. Fun Factory has this great counter display to show how it moves. It has this little swing for the toy to lay in, then when the toy is on you can see how it moves back and forth on its own. It's really cool to watch and will make it an instant seller. Its Packaging is simple and easy to read. It is made to sit on the shelf or the box can be hung. It is a must for any Fun Factory section in your store.
For more information, contact Fun Factory:
Product Description:
Finally, a toy that gives your G-spot the rhythmic massage it craves, hands-free. With all the thrusting, pulsing action that's made our STRONIC line a massive hit in a sleeker, slimmer design, the STRONIC G lets you expand your orgasms without lifting a finger.
The STRONIC G thrusts back and forth on its own, leaving you free to focus on other things. Grab your favorite vibe and show your clit some love! Make out with your partner! Try a variety of different positions! Turn the pages of your new erotica anthology! Do whatever takes your session to the next level—because you can.