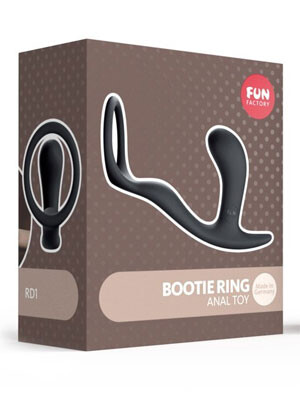 The Bootie Ring is about six inches in length and its plug is about three inches long with a curved nub to hit all of the sensitive spots. The sensations really start to kick into overdrive when using the whole toy. While inserted, the toy stretches forward to fit snugly around the base of the shaft. With every movement from there on after it feels intense from every angle. It created a very pleasurable experience for us and we will be using this one again.
Market Appeal
German engineering at its finest. Having a cock ring connected to anal play, talk about a twofer. Fun Factory showcases the Bootie Ring, aptly named due to it being a cock ring and a plug. The packaging come very clean and professional looking. Gold and red seem to go great with sex toys.
For more information, contact Fun Factory:
Product Description:
The BOOTIE RING combines the erection-boosting power of a silicone cock ring with perineum massage, awesome anal stimulation, and some light prostate play. Pull the stretchy silicone ring over your shaft, so that it rests snugly at the base, behind the balls. Lube up the butt plug (in our bestselling BOOTIE S shape) and enter anal pleasure heaven. Modest in size and impressive in design, the BOOTIE RING is perfect for extra-curious beginners and sex toy enthusiasts alike. Use it solo or while you play with a partner for the kind of orgasms that only happen when you're hitting multiple erogenous zones at once.