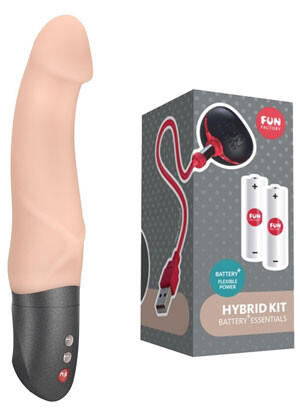 This guy is about to be the boss of your vagina. Mr Boss from Fun Factory is a strong battery-operated vibe.
Don't let the battery turn you off, because this is special kind of battery toy. You can purchase the hybrid kit from Fun Factory that turns a handful of their battery toys into rechargeable ones. How cool is that option?
It has an easy-to-use push-button control that lights up and allows you to cycle through its functions. This vibe hits all your sweet spots and makes your G-spot scream with delight. It is made of body-safe silicone and is waterproof for shower fun. This will be your new favorite boss.
For more information, contact Fun Factory:
Product Description:
We've fixed all of the disadvantages of battery toys, kept the advantages, and added some more! MR BOSS, from our game-changing BATTERY+ line, has the most powerful battery-operated motor on the market, takes standard or rechargeable batteries (and knows the difference between them), and can even be effectively upgraded to a rechargeable toy with the addition of a HYBRID KIT if you decide you want to make the switch. That's right, we've invented patented new technology to change your relationship to your vibrator in ways you'll love.