Crotchless Stimulating Panties with Pearl Pleasure Beads
Hustler Toys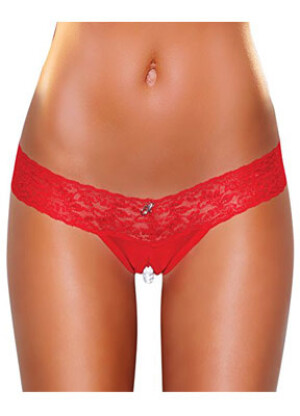 They always say less is more, and that is the case when it comes to crotchless panties. Less panty material is sexier. Let your lady parts breathe and feel the cool breeze while being on display.
But they aren't your normal crotchless panties because these ones come with pleasure pearls for added stimulation. They drape right across the clitoral area and when you walk the pearls stimulate the clit and get you all hot and bothered. Try walking around in these babies all day-long and keeping everything under control. The lace material gives the panties that extra sexiness that only lace can provide.
Put on a pair and dazzle your favorite lover. 
Product Description:
A sexy and fun twist on classic crotchless thong. Stimulating Pleasure Beads can be enjoyed by both partners!
Available in Sizes S/M & M/L