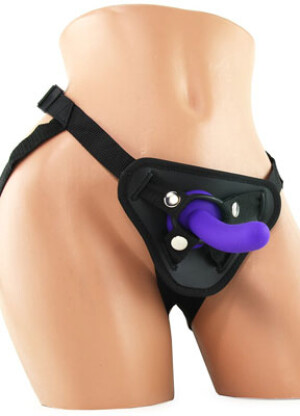 My partner and I tested this strap-on for pegging and it proved to exceed our expectations! The "beginner's" size of the dildo was perfect for my partner, who is new to pegging. The dildo features a curved shape that targets the P-Spot with precision and the harness was easy to wear and maneuver in. Its universal design allows me to pair the harness with other dildos when we're ready to go bigger.
Product Description:
Great for both vaginal and anal penetration, the silky Peg dildo features a wide circular base that attaches easily to the harness yoke. A sexy up-tipped shape naturally seeks the g-spot or prostate gland during penetration. The Strap-On`s Universal styling is compatible with many O-ring sizes, most flange-based toys will be compatible.
Materials: SiliconeMeasurements: -Length: 5 inches -Insertable Length: 4.5 inches -Girth: 2.9 inches-Width: 0.9 inches -Waist: Fits up to a 48 inches