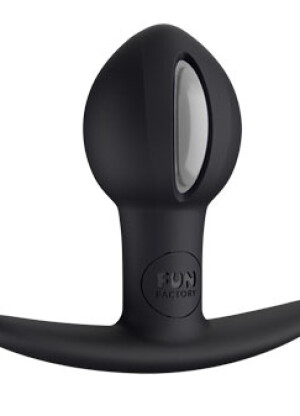 Who doesn't love adding a little extra excitement to their anal plugs. This little baby is super exciting and fun. Not just any old fun, but the plug has a unique rumble that is sure to make you smile with delight.
Inside the plug is a weighted ball that bounces and rolls with your movement. The more you move the more fun you have. Which makes it extra fun during sex and foreplay. It's extra special when you are getting spanked and/or flogged. It's great for all anal levels as well. Flexible base provides a comfortable feel for extended wear. It's like a party is going on in your butt.
For more information, contact Fun Factory:
Product Description:
This butt plug is anything but a lazy bottom! Anytime you move, the weighted ball inside the B BALL UNO bounces, rolls, and rumbles in response! Get more from the motions of partner sex, with a plug that gives you powerful feedback with every thrust. Wear it during vaginal sex for an extra feeling of fullness: its round shape will angle your partner (or favorite dildo!) into your G-spot and maybe even let your partner in on the B BALL UNO's unique sensation!
The B BALL UNO is great for adding extra spice to a spanking or just for a silent, secret thrill while you go about your day. Its tapered tip helps you slide it right in, and the flexible silicone base fits snugly between your cheeks and moves with your body, making the B BALL UNO the most versatile plug in your arsenal.