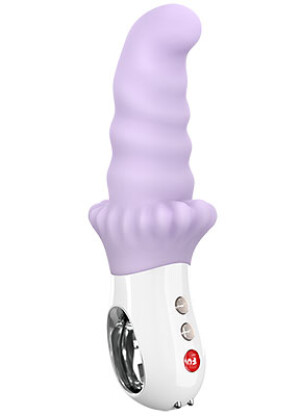 If this toy doesn't put you into a good mood then I don't know what will. Cute and petite in length, this vibe has some good girth to it. It is made of silky smooth silicone that is of the highest grade. It has both speeds and patterns for you to play with. It offers really great power but still operates on the quiet side. The handle is my favorite part because it makes the toy super easy to use and hold; it's very comfortable for the user. This toy makes me want to holster it to my side so I am always ready. You can lock for travel so it doesn't go off in your purse.
Market Appeal
This toy is a great new addition to your store's Fun Factory section. If you don't have one, you need to make one and add this to it. The packaging has the ability to sit on the shelf or hang. It's definitely something you would want as a tester in stores so people can see how great it is. It's great for all toy users.
For more information, contact Fun Factory:
Product Description:
MOODY is there when you want it, for whatever you want. With a flexible shaft that moves with your body and opens up a world of new positions, a shape that's basically a playground for your bits, and a motor that's sure to please even a consummate power queen, this is the first vibe you'll want to reach for, no matter what mood you're in.