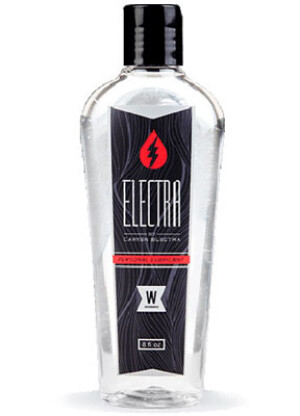 I think I'm in love … this lube is the best! It's a natural, paraben-free lube that's sure to satisfy. The warming agent in it definitely had my "little man" excited, if you know what I mean. This lube gave me brownie points with my lover, leaving her in a very sensuous mood right after application and kept her there the entire time. The warming lube comes in a four-ounce bottle and smells really good. It's also water-based and it doesn't dry out quickly, which is good because I use less and save more for next time (although it doesn't make a difference because it's very affordable for such a well-made product). This lube absolutely brought the sexy out of my partner; I thought Carmen Electra herself was in the bedroom for a second!
Product Description:
Delivering you that satiating, gentle tingling sensation upon contact, Electra Lube Warming will turn up the heat in more ways than one as it provides all the lubrication you need for a smooth ride.