Pink Lady Training Unit (sleeve and case)
Fleshlight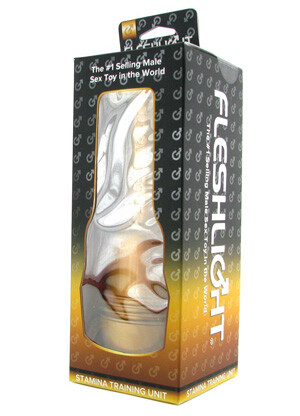 With all of the fancy and elaborate sleeves out there it is nice to take it back to the basics. The Fleshlight Stamina Training Unit (STU) hits a homerun with its simple design and smaller canal. Lined within that canal or molded bumps that are designed to help prolong your stamina in the bedroom. One of the best things about Fleshlights is that you can warm up the sleeve with hot water before hand. It might not be for everyone but it completely changes the experience.
The first thing I notice about the STU was the tighter sleeve. They are not joking about increasing stamina because it feels incredible. Have a few practice rounds with the STU and you might meet your goals. The whole piece is simple to clean with some hot water and soap. I don't believe stamina training is the only reason I would use this particular sleeve.
Product Description:
The Fleshlight STU™ (Stamina Training Unit) masturbation product is a sex toy for men specifically designed to replicate the incredible sensation of sexual intercourse in order to help you find your rhythm and obtain peak sexual performance.