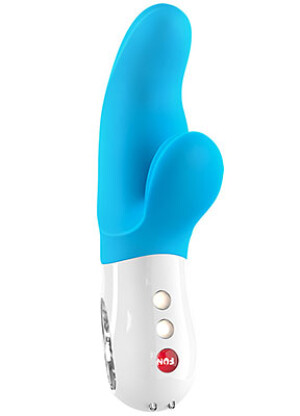 I have always loved Fun Factory. This new item from them is pretty cute. The shape is not going to be for everyone, that is usual with Fun Factory because they usually have a unique shape and design to them. I love that. The color of this is decadent and the vibrations are strong and get the job done. It's nice and compact and the handle makes it super easy to use. It is rechargeable with USB and has seven speeds and seven functions to play with. Overall, the Miss Bi Der Vibrator is a great quality product from them, just like every time.
For more information, contact Fun Factory:
Product Description:
MiSS Bi is the dual action vibe you've been dreaming of, with a shape designed for targeted G-spot massage and deep, powerful vibration against the clit. Made with FlexiFUN Technology that was developed over time for the best fit, both the thick shaft and the clitoral extension can be bent and flexed for maximum comfort and adventurous new positions. MiSS Bi has 2 strong motors that can be used separately with 6 vibration intensities and 6 vibration rhythms give diverse pleasures with 49 possible combinations. This vibe has 3 inches insertable with a wavy shaped shaft that varies from a 1 inch thick, 1.25 inch wide tip to a 1.6 inch wide, 1.3 inch thick shaft that has a nice wavy shape down to the clit stimulator. MiSS Bi has an unusual paddle shaped stimulator that is just .75 inches thick, 1.5 inch wide and 1.75 inches long to make full clit contact where one of the powerful motors is located.