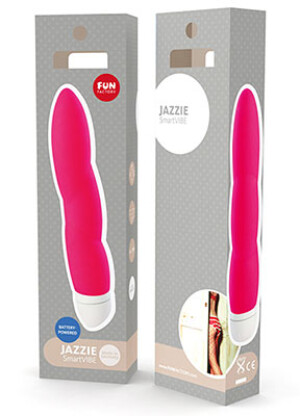 I am going to keep this in my suitcase from now on as my new travel vibe. The Jazzie is amazingly great and full of power even though it's only one speed. The size and shape is great for travel and just what I need. Made of some of the best high quality silicone — I can even take it into the shower for more fun. Not only stimulating for alone time but great to use with a partner. It is just the right size to not get in the way and add some extra pleasure.
For more information, contact Fun Factory:
Product Description:
Top quality always has its price? JAZZIE is the best proof that this isn't always true. Made of high-quality medical-grade silicone and fitted with a powerful quality motor "Made in Germany", this stylishly designed, battery-operated MiniVIBRATOR pleasures without putting a strain on the wallet. The uniquely affordable price and the slender shape with effective structuring makes JAZZIE the perfect BasicTOY for every pinch-penny, who however doesn't like to cut corners on quality in bed.
This powerful, battery-operated MiniVIBRATOR has rhythm in its blood and not only pleasures users like a true maestro but also is music to budget-conscious ears.
• MiniVIBRATOR
• Slender shape "SlimVIBE"
• Very suitable for narrowly built women
• Structured silicone sheath for intense stimulation
• The mid-sized SlimVIBE
• One vibration level full of zest
• Powerful motor
• Battery-operated with two AA batteries
• Do NOT remove paper in battery compartment!
• Ready to go! Easy operation with the cap "EASY TWIST" made of body-friendly ABS plastic
• 100 % waterproof
• Velvety, medical grade silicone with a pleasantly flexible toy end – gentle to the body and odorless!
• Easy to clean with the TOYCLEANER, which is specially made for silicone toys and the genital area...or with water and mild soap
• "Made in Germany"
• Best FUN FACTORY quality for a small budget
• The ideal BasisVIBRATOR
• In black or pink
• 7.0 in. cm and Ø 1.2 in.