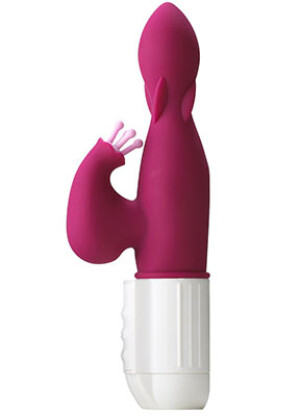 Screw normal flowers for your next romantic evening and get this magical toy that she will keep thanking you for. Vibratex has always pleased me, in more ways than one. This toy is the next great one in a line of all amazing stuff and about number 15 in my collection. The flower ticklers provide a delightful sensation on the clit area. I couldn't get enough of it and found the look of the toy adorable. The handle is easy to use and maneuver. Made of high-quality silicone that feels decadent against the skin and the added ridges on the shaft felt nice. The burgundy color is refreshing to see rather than your normal shade of pink. I definitely do love this thing and will be adding it to my rotation.
Market Appeal
Add this to your Vibratex section in your store and if you don't already have one than you need to get one now! Or if you have a luxury section or rechargeable area, this item will fit right in. But you do need to get this. Having a tester will help sell it. It can sit on the shelf and make a display or will hang on a hook.
Product Description:
A silky smooth silicone vibe with a graceful shape accented with a flower-like tickler. Each little stem will will tickle your fancy, and raised ribs along the shaft add sensation. Our new battery pack offers 4 speeds and 5 vibratory patterns for you to find your personal favorite.