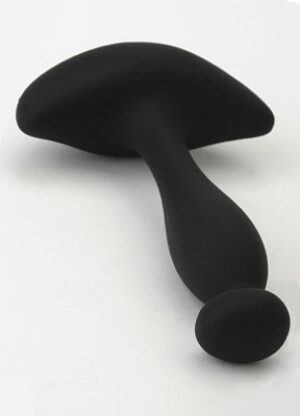 Here comes a strong contender for the male prostate massagers. Vibratex adds a very powerful toy to their arsenal of ass play. The Black Pearl absolutely does fly its flag high and proud. A sleek black persona combined with an intriguing design creates a note of curiosity to those ever tempted by the desire to feel your prostate vibrated until the sweet, sweet end. Providing three speeds and four different patterns, one could easily find their zen. Mind you that the lowest speed setting is not weak by any means. A non-threatening diameter of three inches welcomes even the faint of heart. Easy insertion might be the draw to some folks but the power behind the vibrator itself is the real bang for the buck. The pattern settings give wave after wave of ecstasy while the absolute strength of the solid vibration speed will have you taking the last ride in.
Product Description:
Calling all men. Been wondering how to get every man into P-spot pleasure? Now you can. The Black Pearl offers gentle, yet powerful vibration through its slender shaft to its rounded pearl, placing tantalizing stimulation just where it belongs. And the bowed handle is perfect for nudging the perineum and offering leverage for those who want more. Fully enveloped by smooth, black silicone, the Black Pearl is showerproof and splashproof. Finally. No more "buts" about butts. Max width 1", length 5 ¾" (3 1/2" inserted). 3 vibration intensities, 4 patterns. Includes USB cord and wall adapter. 1-year warranty.