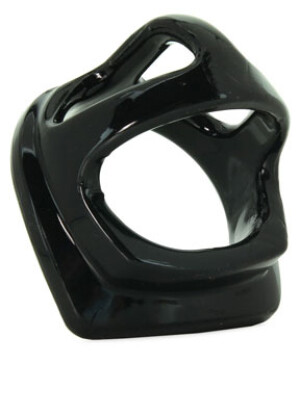 The silicone ball splitter created by Perfect Fit Brand is an easy-to-use restraint that will tantalize your torturous side. I would highly recommend using a personal lubricant prior to application. While in use, the advertised "Bigger Bulge, Harder Erection, and Prolonged Orgasm," was fairly apparent as it also works as a cock ring. Have a good grip on the gag when sliding your balls through each side. This can be a little tricky... If it happens to slide free you might be starting your BDSM scene a little bit early.
For more information, contact Perfect Fit Brand:
Product Description:
Armour Split is a slimmer and thinner version of the best-selling Cock Armour for bigger bulges, enhanced erections, and more intense orgasms. It is designed with a revolutionary anatomical shape that hugs your torso and pushes your gear out entirely from your body to enhance your penis and scrotum. Armour Tug has an extra strap across the middle of the opening which gives the user even more separation.

Armour Split is made of PFBlend which is a proprietary blend of Silicone and TPR developed to provide superior stretch, comfort and durability. Armour Split comes in a Sport (1.5/38mm) and a Standard (1.7"/43mm) size. It is available in two colors black, and clear and is safe with water based lubes. Wash thoroughly with mild soap and water. This product is not compatible with latex products.