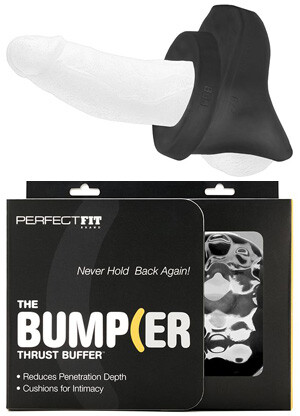 The Bumper by Perfect Fit is for all the fellas out there who prefer to have comfortable nookie with flat-bummed partners. It comes in an athletic-looking black box that opens to display the actual items. Made of a special polymer blend called SilaSkin (which in places peels off like sun burned skin), this bumper is incredibly heavy. It hangs on an erect penis and acts as a shock absorbing space between the male and a myriad of foes: the pelvic bone or a cervix.
The worn ring is surprisingly stretchy and we can imagine it would fit comfortably for a great many sizes. If depth of penetration is a real issue, the Bumper also comes with a donut. Made of the same materials, it can be used in combination with the bumper. We actually found that we liked using the donut ring as a stand-alone toy as well. Don't forget to use lots of lube when playing with this toy. Just make sure it is a water-based lube.
For more information, contact Perfect Fit Brand:
Product Description:
Perfect Fit Brand has launched the Bumper™, the first-ever adult product that cushions deep thrusts during intercourse, providing an opportunity for more passionate sex without restraint.

Receiving Partners who express discomfort during intercourse with a partner may find pleasure in the Bumper™'s ability to make sex more enjoyable within their comfort zone. Penetrating Partners will still have the feeling of full insertion and intimate contact with their partner without having to hold back. For women, this also acts as a sexual health tool to lessen the chances of a bruised cervix.

The Bumper™ is a system of two parts: The Bumper™ Thrust Buffer™ and the Donut Buffer. Either one can be used independently or together to create a thick and protective cushion for when the thrusts get deep. Made of ultra-soft SilaSkin material, the Bumper™ is also irresistibly soft and comfortable.