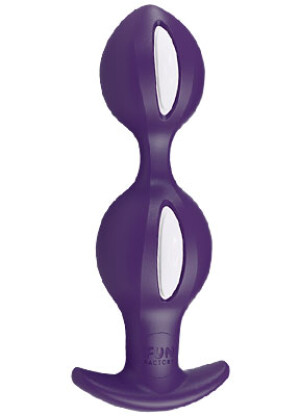 Combining the design of their best-selling, silicone "Smart Balls," with the in style of anal toys, Fun Factory hits a home run with their cleverly designed "B Balls." B must stand for beautiful or brilliant but most likely for "bum," as in where you should stick these. Instead of having the silicone cord to pull out like on the popular Smart Balls, these perfect-for-anal-use B Balls have a cheek-fitting, rocker-style base, easy to insert and leave in there for extra fun P-spot stimulation. The folks at Fun Factory even left in Smart Balls inner tumbling balls which are sure to add a fun little jiggle when you shove them in the middle. Oh yeah.
For more information, contact Fun Factory:
Product Description:
The B Balls became an instant best seller with its innovated design. Rotating weighted balls inside B Balls stimulate the wearer with every movement, using the same technology as the million-selling Fun Factory Smartballs. Now your customers can get this exclusive black and grey color combination.