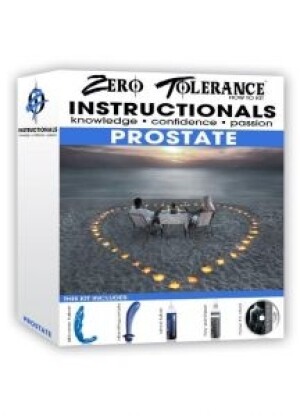 Product Description:
How To Prostate
Discover the pleasures and health benefits of prostate stimulation and massage with this helpful kit. Expert advice and demonstrations paired with high quality toys and lube give you everything you need to explore your prostate.

Contains:
• Silicone Talon
• Vibrating Prosty
• Anal Lube
• Toy Sanitizer
• How to DVD

Dr. Ava's Guide to Prostate Play DVD

Learn expert techniques and facts from world-renowned 'sexpert' Dr. Ava Cadell. Live performance demonstrations illustrate every technique. Watch alone or with your partner for hands-on experimentation.

Talon Blue:
• Ergonomically designed to fit the prostate
• Pure silicone has soft, silky feel
• Contours and ridges help with easy entry
• Phthalate & latex free

Prosty Blue:
• Smooth texture and curved shape for smooth entry
• Ideal for experienced prostate play
•· functions for variation in 'P-Spot' stimulation
• Phthalate & latex free

Anal Lube:
• Makes prostate exploration easy and pleasurable
• Thicker viscosity stays slick longer
• Works great with prostate toys; washes off with water

Misting Cleaner:
• Mist cleaner onto cloth or directly on toy, and clean thoroughly; rinse with warm water
• Disinfects and sanitizes with anti-bacterial, odorless non-greasy agents
• Safe for all toy materials, non-irritating and alcohol free