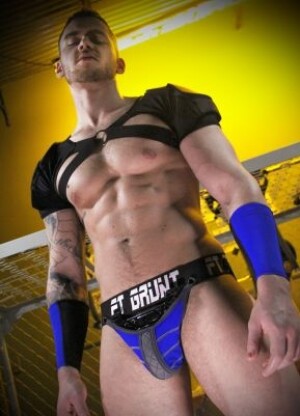 Support is always crucial in anything you can think of. Bridges, they require supports. Boobs, generally need support. I admire support, especially when that support puts my best dick face forward. The Jock Armour from Perfect Fit brings all that to the table and more. It has a built in cock armor that gives you great, wait for it, support and looks great. Like seriously it's all kinds of "good dick day" wearing fun that will make all the boys come to the yard. You can also bring all the girls to the yard and if they bring their Jock Armour you can all have a rousing game of touch football.

For more information, contact Perfect Fit Brand:
Product Description:
Jock ARMOUR is gear that DEFIES categorization. It features a body-hugging COCK RING that fits your anatomy like a second skin. And it's a JOCK that pushes your gear out for a bigger package. Snap off the pouch, and you are ready for action.

The heart of this new jock is the ARMOUR cock ring, an integrated PART of the jock. The Jock ARMOUR delivers all-day comfort with a body-hugging fit, and a bulb at the base that HITS your perineum. Jock ARMOUR is loaded with etched DETAILS. Made of uber-stretchy TPR and Silicone. Innovation and Design by Perfect Fit.

With the pouch snapped into place, Jock Armour looks incredibly sexy. Your gear is covered, but you get a glimpse of the ARMOUR underneath. Your package is supported by the ARMOUR, and pushed OUT so your gear looks huge as it rests against the spandex/nylon fabric. The pouch is held in place by 3 snaps, so you can remove it quickly.

Jock Armour comes in Red, Blue, Orange, and Camo and is available in Small, Medium, Large and XL.