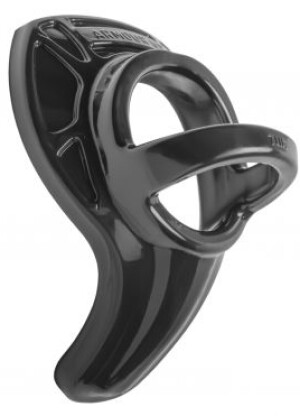 Do not march into the arena bare my friend. Go in there confident and superior above all the rest. Go into that storied battle field with the Armour Tug from Perfect Fit. Perfect Fit really is producing some excellent products as a whole lately and the Armour Tug is no different. The semi tear drop shape device is really more than just a cock ring it's more like a cock battle shield. It applies all the right pressure in all the right spots leading to longer more intense orgasms. Plus when you're not engaging in inter-bedroom combat just wear it under your favorite pair of short shorts for that "Hey look at how rad my dick looks" look.

Market Appeal

This isn't what I'd call a beginners product, but you don't need a masters in sexology either to use it and I would market this as such. For those gentlemen that has experience with cock rings but need that little extra push that smaller rings generally don't provide. Even though the Armour looks a bit intimidating once it's on it feels quite comfortable, let the customers know that the bark is much bigger than the bite and urge them to push their kink to the next level.

For more information, contact Perfect Fit Brand:
Product Description:
The Armour Tug is one of the newest variations of the award winning Armour Gear line of products. It is a slimmer and thinner version of the best-selling Cock Armour, for bigger bulges, enhanced erections, and more intense orgasms.

It is designed with a revolutionary anatomical shape that hugs your torso and pushes your gear out entirely from your body to enhance your penis and scrotum. Armour Tug has an extra strap across the middle of the opening which gives the user even more separation.

Armour Tug is made of PFBlend which is a proprietary blend of Silicone and TPR developed to provide superior stretch, comfort and durability. Armour Tug comes in a Standard (1.7"/38mm) size. It is available in two colors black, and clear and is safe with water based lubes. Wash thoroughly with mild soap and water. This product is not compatible with latex products.