Aneros Helix Syn Silicone Prostate Massager
Aneros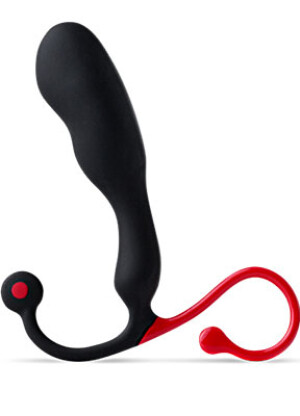 Having to live up to it's predecessor Helix, the Helix Syn offers a silicone coating and a redesigned comfort tab. Just make sure to used water-based lube. This has to be one of the easiest to use toys on the market. The real secret to its enjoyment is practice though. As a hands-free massager one must learn how to contract your anal muscles (Kegels) to savor the full sensation. A four-inch insert-able head offers a not so intimidating starting point to your back door adventures. Good thing it comes with instruction for proper use! The results are just amazing. Once you find yourself in a good groove, (with assistance or not) it doesn't take long for the whole body sensations to kick in. Just don't forget to wash with warm soapy water. This one is not dishwasher-safe! Again, practice makes perfect so work on that sphincter control. 
Product Description:
Experience the synthesis achieved with the popular Helix model and velvet touch silicone. The original Helix design has been skillfully refined for an even more comfortable fit with its solid inner frame, while still maintaining the firmness necessary for the mind blowing prostate experience Aneros is famous for.