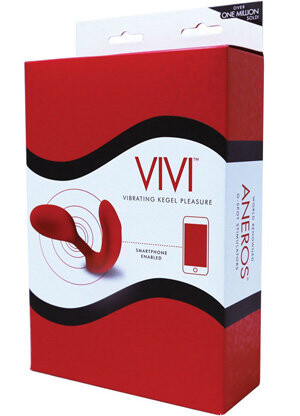 As someone who tried the original, non-vibrating version of this toy (Evi), I was excited to hear about the release of a vibrating version. I was a fan of the original and could only imagine the wonderful difference that vibration would make. Much like the original Evi, Viv is shaped to provide simultaneous G-spot and clitoral stimulation. Vivi's patented anatomically contoured shape is designed to stimulate the right spots and is enhanced with powerful motors that provide a whole new level of pleasure. A noticeable difference between Evi and Vivi is the supple, flexible design of the latest version. Because Vivi is worn internally, having a flexible design makes it a lot more comfortable, especially for long-term wear.
Also similar to the OG model, Vivi can be used to exercise pelvic floor muscles — and this is where you find another exciting upgrade, the Vivi App that will remind you when it's time for a quick mid-day workout. The toy itself helps to tone the pelvic floor with its shape. By contracting and relaxing the muscles that control urinary flow like one does for kegel exercise, Vivi pivots inward and upward to stimulate the G-spot and clitoris simultaneously while improving pelvic floor muscle tone. With the app, you can also control Vivi's vibrations right from your phone, allowing you to choose from one of 12 different vibrating patterns. This makes it easy to take control of the pleasure while just laying back and enjoying the stimulation. The app features controls that are operated by dragging either of two bars that control the intensity of the internal and external motors separately. Vivi can also be controlled manually, or without any vibrations at all like the original Evi.
Vivi comes packaged in a sleek red box that stands out with a bold image of the item along with a graphic of a smartphone to promote its cool app-enabled functions. The box packaging opens up to reveal a beautiful pearlescent white box that unfolds to reveal the bright red stimulator and its white magnetic charger. A user guide also is included to provide all the needed info to operate Vivi effectively.
Every woman would benefit from the use of this item, regardless if you're trying to build strength or just looking for a unique new way to orgasm.
For more information, contact Aneros:
Manufacturer Description:
Discover the pleasure of simultaneous G-spot and clitoral stimulation with Vivi. Vivi's patented, anatomically-contoured shape is designed to precisely stimulate the right spots, and with its powerful motors, it will introduce you to new heights of orgasmic pleasure.
Once inserted, the Vivi is gripped by a woman's pelvic floor muscles, helping her discover and exercise the muscles essential for sexual pleasure and bladder control. Kegel fitness is beneficial for women of all ages, especially for those following child birth. Vivi's ergonomic, hands-free design allows it to be comfortable worn throughout the day, and the Kegel reminder feature on the Vivi App will let you know when it's time for a quick mid-day workout. The Vivi is perfect for toning and strengthening these important muscles.
Use the Vivi App for iOS or Android phones to choose between 12 different vibrating patterns or to control each of the two motors independently.
Copyright © 2023 Adnet Media. All Rights Reserved. XBIZ is a trademark of Adnet Media.
Reproduction in whole or in part in any form or medium without express written permission is prohibited.